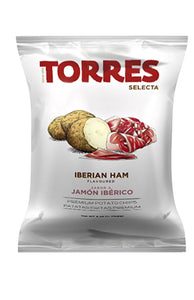 TORRES Spanish Chips - Iberian Ham (50g)
•    Real Iberian Ham Flavour
•    Made in Barcelona, Spain
•    The perfect snack!
---
Torres has been making their gourmet chips for over fifty years. This snack combines potato chips and the flavour of iberico ham to make a mouth-watering delight. Taste the richness of Spain's prized iberico on the salty lightness of a chip. Whether you choose to eat them as a side at dinner, share them for tapas, or have a personal snack just for you with a glass of red wine, these chips will have you longing for more. Treat yourself!
---
Size: 50 g
Ingredients: Potatoes, sunflower oil, Iberian ham flavouring (2,66%) and salt.
---
We Also Recommend