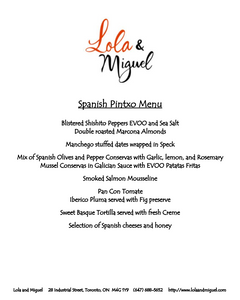 PINTXO NIGHTS INFORMATION AND MENU - BY RESERVATION ONLY
Pintxo is variation of the Spanish Tapas, small plates and appetizers.  The term originates from Basque country in northern Spain and this style of dinning is relaxed, social, and allows guests an opportunity to try a diverse selection of  what Spain has to offer.
Join us with your friends and family for this PRIVATE unique and quaint experience.  We will be starting the food service between 7:00pm and 7:30pm and will be only offering one seating on Friday and Saturday nights, so our guests can kick back and relax, as long as they want.  With our limited seating of 12 guests each night, we can ensure a safe and down to earth environment. We do require a minimum of 6 people to hold the event.
Bookings can be made on-line, through our store.  Type in Spanish Pintxo Night, then you will see the event dates.  Feel free to book your fun evening with us.
Cost is $145.00 each (Plus tax and a 20% gratuity will be automatically charged to your bill. Or, $192.85, ALL IN, per person).  Please make sure to add your email address, so that we can send you additional information, including our menu.
***PLEASE NOTE:  Menu items may change/based on product availability.