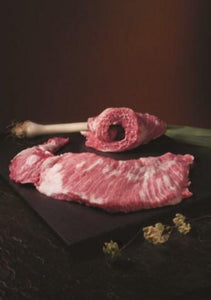 INSTORE PURCHASE ONLY - Secreto Ibérico (Boneless Shoulder) (Frozen)
NEW LARGER SIZE!
Spanish Ibérico Pork
Boneless Shoulder "Secret" cut
---
The name 'Secreto' refers to the secret, small cut of meat found by only the top butchers. This winning combination of both the secret cut and the rare Ibérico meat makes for an unforgettable dining experience. The meat is tender, juicy and leaves you wanting more.
The Ibérico pigs from Western Spain produce some of the best pork in the world. Rich in flavour and superb in texture – the "black-footed pig" is incomparable. The pigs are raised in the Dehesa forests near Salamanca where they feed on fresh flowers, wild herbs and grass. The meat produced is a dark, rub-red in colour with beautiful marbling of fat throughout.
The Secreto is a similar cut to a skirt steak and can be grilled or cooked in a cast-iron pan. Cook till meat is medium-rare and allow it to rest before serving. Ibérico needs very little seasoning and is best enjoyed simply with a loaf of crusty bread and a glass of wine. 
---
Size: 2-3 pcs/pkg approx 1.2kg ea.
Ingredients: Ibérico Pork
Ingrédients: Porc ibérique
---
We Also Recommend