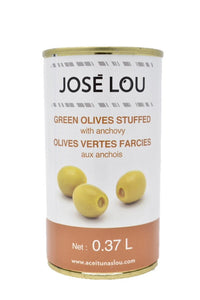 JOSE LOU - Manzanilla Olives Stuffed with Anchovies (370g)
•    Savoury 
•    Whole olives preserved in brine
•    Open and serve - tapas party ready!
---
Looking for a savoury way to satisfy your cravings? Look no further than Manzanilla Olives stuffed with Anchovies! The olives are picked in Andalusia, a beautiful region in Southern Spain. The Manzanilla olives are preserved in brine and fermented. They are combined with garlic and stuffed with anchovy paste. This give the olives a dynamic strong flavour that pairs well with cheese, fresh bread, chorizo, and iberico. 
---
Size: 370g
Net: 0.37 L
---
We Also Recommend