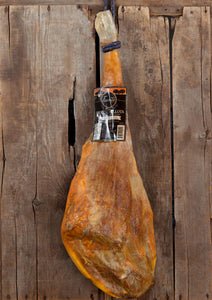 FUENTE - Ibérico de Bellota - Bone-In (36 Months) (8kg approx.)
•    BEST VALUE & SIZE!
•    Acorn fed
•    Minimum 36 Month cure
---
Ibérico de Bellota, the king of hams, is one of the most sought after cured meats worldwide. The melt in your mouth texture and rich nutty flavour compare to no other. Bellota, every food lovers desire, can only be compared to other delicacies such as Kobe Beef or Beluga Caviar. The Ibérico pigs roam the forests of southern Spain feasting on grasses, plants, and acorns. In the last few months of their lives the pigs consume almost only acorns, which allow them to gain several pounds every day. The acorns are a crucial component in giving this ham its flavorful nutty taste along with providing nutritious mono-saturated fats.
This artisanal ham is cured in the mountains of Spain in specially designed curing rooms that expose the legs to the changing climate of this region. This process lends unique characteristics to the meat when the process is complete. In the end we are graced with a bold ruby red coloured Jamón that is rich in taste!

Jamón Ibérico should be sliced paper thin and always served at room temperature. It is surefire to impress any guest nd makes a great appetizer to any meal! If wrapped well in plastic and stored in a cool, dry place your Jamón can last for several months. 

---
Size: 8 - 8.25 kg (approx.)
Ingredients: Ibérico pork (acorn fed), salt
Ingrédients: Porc Ibérique (bourris aux glands), sel
---
We Also Recommend