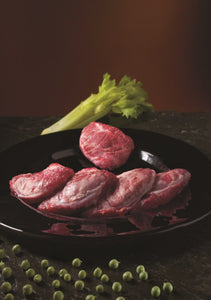 INSTORE PURCHASE ONLY - Carrilleras Ibérica (Cheeks) (Frozen)
•    Juicy Cheeks
•    Spanish Ibérico Pork
•    Free-range and humanely raised
---
The cheek is one of the more sweeter, full-flavoured parts of the pig. From the famous Iberian pig - it is bound to quickly become one of your favourite cuts. Derived from around the jaw, this piece is ideal for cooking and is very tender in texture.
The Ibérico pigs, also known as the "black-footed pigs" are a specific cerdo breed that can only be found in Spain. The pigs live in the Dehesa forests in western Spain, where they roam freely and feed on wild herbs, flowers and grass. They are also fed high-quality grains in the last few months of their life.The Ibérico pork is high in monosaturated fats - excellent for your health. The meat is a beautiful ruby-red colour and when cooked, it instantly melts in your mouth.
Season slightly with salt and pepper before grilling the cheeks on high heat until cooked medium-rare. The taste and texture is unlike any other pork you've tried, guaranteed. Pair this deliciously juicy pork with a glass of Spanish red wine.
---
Size: 20 pc x approx. 350g
Ingredients: Ibérico Pork
Ingrédients: Porc ibérique
---
We Also Recommend