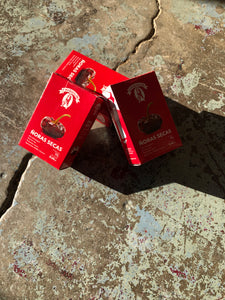 NORAS Secas Dry Red Pepper (17g)
Dried Nora peppers by Chiquilin are red, round, sweet pepper variety, dried in the sun to preserve the natural flavor.
Spanish Nora peppers are small, round variety, an essential part of Spanish culinary life. They carry sweet flavors and earthy heat; peppers are dried to preserve unique aromas, so they must be soaked in warm water before cooking. Spanish Nora peppers have transformed into a cultural phenomenon, too. Keeping hydrated red pulps in the jar for aesthetic purposes is a signature detail of a typical Spanish kitchen. 
Established in 1900, Chiquilin started as a small spice brand that soon transformed into one of the beloved names of Spain. The brand specializes in producing the finest paprika and pepper products to add delicious heat to your meals! Chiquilin guarantees the finest quality by strictly upholding the BRC regulation regarding food safety standards. 
The fabled Nora peppers by Chiquilin are versatile ingredients for making the most aromatic traditional Spanish dishes, and not only. They can elevate your chorizo sausage, Arroz a Banda, paella, your favorite stews, and soups, too. The delicate sweetness of these Spanish peppers goes especially beautifully with crab cakes and chori!