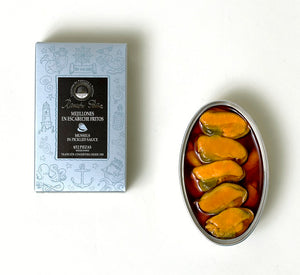 RAMON PENA - Mussels (Mejillones) from Galicia in Escabeche Fritos (110g)
•    8/12
•    Conservas from the Galician coast of Spain
•    All natural, preservative free
•    Hand packed in delicious marinade (Escabeche)
---
In Spain canned seafood (known as Conservas) has long been served in restaurants, bars, and in the home as a gourmet dish. Caught using traditional methods, these mussels are cleaned by hand, steamed and delicately packed in a marinade of olive oil, wine, vinegar and spices. These plump and juicy mussels are ready to eat right from the can, just peel back the lid and enjoy!
---
Size: 110 g
Ingredients: Mussels, olive oil, sunflower oil, vinegar, salt, spices.
Ingrédients: Moules, huile olive, huile de tournesol, vinaigre, sel, epices.
---
We Also Recommend